Get To Know Norman Gitzen
Kinetic Sailfish Sculpture
Sunday School Kids and Monarch Butterflies
A Little About Norman Gitzen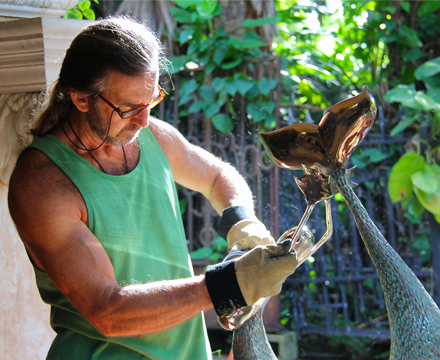 Norman Gitzen is an exceptional, well known sculptor and artist. He is also well respected in the community as an environmentalist, humanitarian, philanthropist and a proponent of healthy living and eating. He creates his unique and popular style of work using decorative metals, stone and wood. His creations are uplifting and deliver powerful messages whether for artistic enjoyment, stylish functionality or for business marketing purposes.
Some of the Infinite Services Norman Offers
Stunning Metal Sculptures For Personal or Commercial Use
Distinctive Architectural Wood Sculptures Of All Kinds
Unique, Eye Catching Jewelry You Will Love To Wear
Amazing Custom Projects Of Any Kind That You Have In Mind
Environmental and Health Advocate Speaker
Experienced speaker for groups, schools, radio and video about living sustainably and organically.